I recently launched my ebook- Boosting Your Confidence, 15 Steps to Success in the Workplace. To get your FREE copy, check here.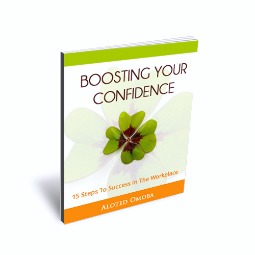 So far I have been receiving fantastic feedback on the ebook. I am so humbled.
This is what readers have been saying:
Reviews and Recommendations For Boosting Your Confidence
"Going back to the workplace after a long break can be stressful enough, without all the self-doubts raising children has created. Using Aloted's steps will definitely help you to re-establish your rightful place at work.
 I was a stay at home mum for 10 years before returning to work. I was consumed by fear and I ended up in a job way beneath my capabilities. I was so happy that someone wanted to employ me I jumped at the first job offer I got. Needless to say I was bored beyond belief and earning way less than I had been before.
Just reading this book made me realise I was selling myself short. I am a calm, capable and confident woman"
Berny, Business Woman
---
"This ebook is just concise and straight to the point.
 I can relate to this having just had a baby and going back to work in a few months time.
The points raised have been noted and will be put into use by me.
Well done Aloted."
Dolapo, Banker UK
---
"Boosting Your Confidence was great! Reading it was very uplifting. I, too, had a hard time returning to the workplace after the birth of my daughter. I had worked for fifteen years and then took five years off to spend them with her; when I went back to work, I was very intimidated and nervous, and that is definitely not me!
This book is a real inspiration. Aloted is so astute with all that she talks about! She is absolutely right when she talks about surrounding yourself with only positive people; sometimes you don't even realize that people are bringing you down. At one point she points out that you need to "blow your own trumpet", and she is so right! I am always concerned about everybody else's feelings; I need to remember myself, as well! On these two points alone she helped me with my confidence level.
 This book is awesome, and I recommend it to all moms, whether they are returning to work after having a baby or not. It is such a positive book that you will come away feeling great.
Thanks, Aloted, for your wonderful take on confidence and positivity! It made my day."
Lori Cline, Independent IT Consultant/Freelancer, USA
---
"This book is great for moms reentering the workplace or those who don't quite think they have the same edge they did before having children. It is also great for women generally with confidence issues.
I have my own business, but I am facing the same confidence issues Aloted described in her book. I loved the confidence building suggestions and will start doing them until I have the confidence and realize that I deserve and am good enough to have a successful business."
Sharon Millan, Business owner and mother of 2
---
"A well researched, encompassing, yet simple and straightforward guide to becoming a completely confident and successful woman."
Brownie Owolabi, Blogger
---
"Boosting your confidence is an eye-opener and enlightening ebook that will give the reader a new perspective to dealing with, every day life challenges and obstacles in the pursuit of success, contentment and fulfillment.
 Although it addresses issues from a perspective of a working environment and family life, I believe people who are not in jobs or who have not started building their own family life can also relate to it and apply it to other aspect of waiting and pursuing fulfillment in life. More so they can be prepared in advance for what lies ahead.
 The uniqueness in the author's writing is her ability to keep it real and use her experiences to connect with the reader. I encourage every one to read this life changing e-book and share with friends and families.
 Whether you are already a confident person or on your journey to becoming one, this book can be an every day manual to dealing with unstable emotions and insecurities, we also never stop learning."
Seun Rominiyi, professional accountant/ inspirational writer, UK
---
"What a great read! Your e-book is a clear, concise and positive message that any working mum can use to better her work and home life.
Small, positive changes are where great change comes from, and this e-book has got it!
Simple baby steps to follow, you can choose what area you feel needs improvement and add more improvements as you go along. There is enough to keep most women busy for awhile!"
Lisa, Website Owner
Blog Reviews For Boosting Your Confidence
A few bloggers were kind enough to do a review on their websites. Here's an excerpt but please click the links to see the full review.
"The eBook is twenty pages but there are quite a lot of lessons to take in and digest slowly, it is not to be rushed over at all. From appreciating yourself, to valuing relationships with other people and learning new skills and attitudes, it covers quite a lot."
Shola Okubote of Femme Lounge
---
"The book is aimed towards women and mothers who have lost their confidence at work or in business and want to claim it back. Even men can learn a thing or two from the ebook!"
Atilola of Atilola Writes
---
"Boosting Your Confidence ebook highlights some great steps every woman should take to gain confidence at work, not just mothers.
Believing in yourself, in what you can achieve, and doing the practical things that will make you noticeable in the work place… Once you start doing these steps, you'll be on the right track to boosting your confidence."
Waiki Harnais, Avid writer
---
"I read the book quite easily in about 30mins (which is always a plus for me!) and there are a number of points in the ebook which I definitely will try out and hope to practice regularly to boost my confidence even more"
Tola, Blogger at callmemummy.com
---
"I've read the book twice, and I will certainly be reading it again and again, and putting the tips into practice. I believe there's always room for improvement and change, and I recommend this book to everyone who wants to improve some aspect of their life."
Tolu, Writer and Blogger at http://www.onwritingandlife.com/
So have you read Boosting Your Confidence yet? What did you think? Please share it in the comments section below. Thanks!